About Robinson Chiropractic
Our Mission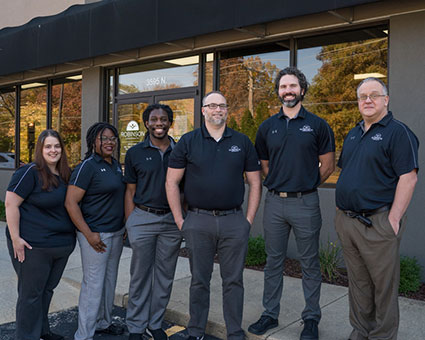 Our mission at Robinson Chiropractic is to glorify God by serving our community through chiropractic wellness to provide maximum capacity for natural healing. Dr. Robinson's guiding principle in both life and chiropractic care is his relationship with Jesus. He looks forward to praying and reading the Bible every morning, so he can serve the families of Danville in the best way possible.
Coming to Danville
Dr. Robinson is from southern Illinois and had never even been to Danville until he came to look at a practice to buy. He felt God was calling him here, and the practice space was the right size, had ample parking and high visibility. We now have four clinics in the area to better serve our patients.
Since 2005, we have been voted The Best of Vermillion County. We are proud that our patients are so delighted with the results of our care.
Treating You Like Family
Our staff is like one big family, and we treat your family like part of our family. Our team is friendly and caring, and everyone in the practice is glad you're here. Our approach to your care is to ensure that you know that you're loved and cared for, and there is no need to worry.
MEET THE DOCTORS »
Community Recognition
Robinson Chiropractic has won the Commercial News "Readers' Choice Award" for 15 years in a row, from 2007 to 2021. We have also won D102 "Best of Vermilion County" for 7 years in a row, from 2015 to 2021.
Success Stories
The biggest comment we get from patients is, "I wish I would've done this a long time ago." So many people are nervous about chiropractic and don't realize it can help improve their overall health and function.
We see miracles all the time, but one favorite success story was a patient in her eighties who had worn glasses her entire adult life. After an adjustment, she walked out to her car and noticed her vision was blurry. She came back into the office to tell the chiropractor she couldn't see right. Then she took off her glasses and realized she could see perfectly without them. From that point on, she had 20/20 vision for the rest of her life.
Take the First Step
Contact us today to schedule your first appointment.
---
About Robinson Chiropractic | (217) 442-2273